Philip L. Anderson, ROG, Kite (834th) and Stuart (835th) crews: Dec 29, 2009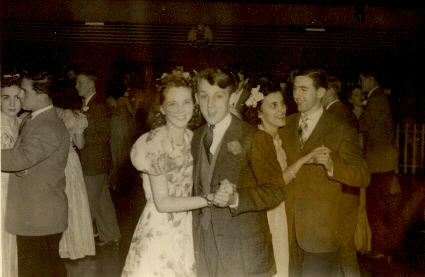 Phil was born in Brazil, IN, on December 4, 1922 to Victor and Fern (Baughman) Anderson. Prior to graduating from High School he had met a 16 year old Norma Jean Gregg and knew that she was the one for him. He took her to the prom before graduating and heading off to war. He would return and marry her on June 9, 1946.1946.
Phil reported to the 835th Heavy Bombardment Squadron, 486th Heavy Bombardment Group in Tucson, AZ as one of the first wave of new crews. Phil was originally the radio operator for the Glass crew. Due to an ear problem, Phil was temporarily grounded when the Glass crew was on a training hop and collided with another crew. Seven members of the crew on board perished along with several members of the other plane.
Phil was later reassigned to the Kite crew, 834th, and flew with that crew until Kite was shot down while flying with another crew. The Kite crew named their ship "Ding Dong Daddy from Dixie" before it was tagged to become "Capricorn", one of the Zodiac bombers. After Kite was repatriated he was returned to the ZOI, due to the 8th USAAF policy of not returning evadees to combat status over Europe. Phil and his crewmates were then assigned as part of the Lloyd Stuart Crew and found themselves back in the 835th, where they would finish their combat tour.
On July 4, 1944, Phil was wounded when a piece of flack penetrated the copilot's window, cutting his seatbelt and hitting Phil in the chest. The impact knocked Phil against the opposite bulkhead causing internal bleeding in the lungs. Fortunately, Phil was saved by his armor suite and his injuries were not serious. He was dazed afterward, but declined any medical treatment for fear that he would be taken off the crew while he convalesced. The lack of documentation of his wound denied him a purple heart, something that friends tried to correct in later years.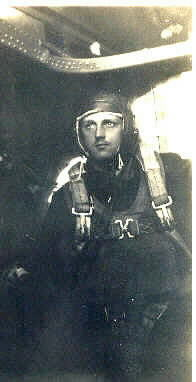 Phil told me that he would take an orange from the mess hall, and place it in a void above the radio desk (photo at left). At altitude it would freeze solid. After spending several hours sucking oxygen from a mask his mouth would taste like "the inside of a Hindu's jock strap." On the return leg of the mission he would reclaim the orange once they were below 10,000 feet and off oxygen. The sweet nectar from the frozen orange would be like manna from heaven! When I took my ride on the Aluminum Overcast several years ago, I reached up into the void to see if there were any oranges rolling around.
After his combat tour was over, Phil was reassigned to the radio direction finding facility on Station 174; call sign, Fuzzpot. After being discharged at the rank of Staff Sergeant Phil attempted to earn his degree in biology, but couldn't focus enough on his studies. He got work with the Life of Georgia Insurance Company, McCormick Spices, Sears and finally the US Postal Service from which he retired. Phil also remained in the Army reserve for a time and received a commission and rose to the rank of 1st Lieutenant. He learned to fly, enjoyed scuba diving, fishing and photography.
Among Phil's awards are the Distinguished Flying Cross, Air Medal with 5 oak leave clusters, Army Good Conduct medal, and various campaign medals. Phil was also honored by France for his participation in the campaign to liberate France from Germany.
---
James Farley, Jr., Gunner, Fishel's Crew, 833rd: Dec 23, 2009
James, age 86, of Sanderson, FL passed away at his home. James was born in Dennysville, Maine to the late James Madison Farley, Sr. & Hope Sprague Farley on July 9, 1923. He honorably served in the US Air Force 8th Division during World War II, a member for 64 years in the International Brotherhood of Electrical Workers, and retired in 1985 from Seaboard Coastline after 40 years of service as an electrical supervisor. He was a member of the Masonic Lodge 101 Ionic in Jacksonville. Mr. Farley lived in Jacksonville for 37 years prior to moving to Huntington, West Virginia and has been a resident of Baker County for the last 6 years. He loved the outdoors and puttering on his farm. He was predeceased by his son: James M. Farley III and four siblings. Family members include his loving wife of 66 years: Mary B. Farley; his sisters: Eva Rockwell, Deanna LaKing, Susan Carate, and Sharon McLaughlin; his brothers: Dexter and Phillip Farley; his daughter-in-law: Merri P. Farley; his grandchildren: James M. (Kimberly) Farley, IV and Katherine (Kevin) Kruser and 4 great great grandchildren.
---
William Beatty: December 19, 2009
Bill, who lived many years in Modesto, died on December 19, 2009. A graduate of Turlock High School, he was the first child born to a family in the Delhi Land Settlement on May 19, 1920. Bill was the son of the late Dr. Walter K. Beatty and Matilde Garcia Beatty.
He worked, as a Draftsman, for a number of government agencies
---
Velton W. Cason, Bombardier, Lovan's Crew, 834th: November 30, 2009
"Son," 89, of Fountain Hill, Ark., died at Pinewood Health & Rehabilitation Center, Crossett, Ark.
Born Nov. 24, 1920, Mr. Cason was a native of Fountain Hill, having graduated from Fountain Hill High School in 1939 and the University of Arkansas. He was a high school math and science teacher and taught in Homer for 20 years. He enlisted in the Air Force Reserve in September 1942 from Consolidated Aircraft in San Diego, Calif., and was appointed aviation cadet on March 20, 1943, at Santa Anna, Calif. He was assigned to the 398th Bomb Group at Rapid City, S.D., and had combat training in B-17s. He missed a flight that killed his crew, so he served as instructor until a vacancy occurred for combat. He served as bombardier-navigator for 35 missions over Germany.
He was a member of the Hamburg Prairie Masonic Lodge #465 for many years and a member of the Fountain Hill First Baptist Church.
---
Jimmie P. Burney, Pilot, 834th.: November 23, 2009
J.P. "Buck" Burney was born in Vivian, La., Jan. 30, 1920. Buck was a devoted family man, father, grandfather and great-grandfather who loved being around everyone. He loved children and animals and will always be remembered as having a wonderful smile, quick wit, and a kind word for all.
Buck worked his entire career for Wilson Industries and retired as vice president of the Machinery Division. He enlisted in the Army Air Corps in December 1942 and became a B-17 pilot. Buck flew 35 missions with the 834th Bombardment Squadron, 486th Bombardment Group (Heavy), 8th Air Force, in England and was discharged in June 1945 as a first lieutenant with full military honors. He received the Air Medal with five oak leaf clusters, the European African Middle Eastern Campaign medal with one bronze star, and the Good Conduct Medal.
Buck was a former member of Mount Gilead Baptist Church of Vivian, La., and The Woodlands United Methodist Church, The Woodlands. He was a member of the First United Methodist Church of Mansfield and a 32nd degree Mason. Buck was the quintessential outdoorsman who loved hunting, fishing and golf. He also loved to play cards and dominos.
---
John Charles "Charlie" Macgill, Pilot, 834th: Oct 22, 2009
Charlie was born in a suburb of Baltimore Maryland, a town of about 21000 by the name of Catonsville, whose father was a well known doctor in that area. Not the kind of doctor we know today, however, because he was almost a part of the family to his patents. As a small child, Charlie recalls so well the phone ringing at most any time of the night and hearing his father's voice say, "all right, I'll be right there." Then the engine starting and Charlie would go back to sleep. Charlie remembers also sitting in the car beside his father as he made the daily rounds of the local hospitals and homes to visit his patients. This became imbedded into Charlie's mind and what his future would be.
There was no doubt in anyone's mind that Charlie would be a doctor...after all, all Macgills were doctors. His Great grandfather, grandfather, and his own father had become doctors, so it was to be a Macgill's heritage. As Charlie grew and walked the roads of Catonsville, he would be called, "Little Doc." UNTIL...one day, when he was eight or nine years old, while playing on the Macgill grounds, he heard a strange noise which seemed to be overhead. He looked up and saw an airplane flying so low that he could see the pilot...helmet, goggles and all. That did it.. .he would become a pilot! No doctor or hospitals for him. From that day on, he never once changed his mind. His father went along with his "dream" and even bought him his first airplane ride in a Ford trimotor.
It was not known to Charlie for many years, why his father went along with his dream instead of becoming the forth consecutive generation of doctors in the family. By the fifth grade, his parents decided that he should go to a military school where, hopefully, the discipline would get Charlie to do some studying...he was not a good student. He got into the military mode right away and settled down to study...enough anyway to graduate, get a job to make money enough to buy flying lessons! College could wait until he could build up a nest egg for college. In the meantime, he and his fellow pilots were having a ball, learning aerobatics and anything else using that medium.
One day, after a day of flying, the pilots heard a place name on the radio which meant nothing to them...Pearl Harbor. They soon learned all they needed to know, and within about a month, the Army Air Corps announced that they were taking men into the Aviation Cadet program without college if they could pass an examination. It took Charlie a matter of seconds to realize that he could be paid for flying instead of having to pay...if he could get his Wings. He signed up and was soon on his way. Having flying time already, made it somewhat easier, but he had to learn "the Army Way" which was some different than the barnstorming he had been doing.
After winning his Wings, his first assignment was to the Anti-submarine school at Langley Field, which was mostly ship recognition given by Naval Officers, then with great anticipation, to the Ninth Anti-Sub Squadron at Miami Airport. There were about 10 brand new 2nd lieutenants who reported there at that time. As it turned out, they were disappointed to learn that the squadron was on Temporary duty in Trinidad, and they had to wait for them in Miami. They did what they could to pass the time away without any airplanes to play with, but, although there was much to do in the vacation city of Miami, Charlie and the new pilots missed having planes to play with. The new men also included bombardiers who were just as unhappy as were the pilots with little to do. The anticipation grew when word was received that "our" squadron was coming home! It was a big thrill to all to see twelve B-18s fly over in formation and peel off to land. Charlie and the group went to the flight line to greet the pilots for the first time. What a terrible let-down to be ignored completely by the men from Trinidad. From that day on in Miami, and until the squadron went to Davis/Monthan Field in Arizona, for combat crew training, the new men and Charlie were never really accepted by then Major Overing, later to be Colonel.
From there to England and combat in the fiercest air battles of WWII, Soon they were to learn what became known as the "Curse of Overing"...haunting most of the men who went to war with Charlie. Overing promoted his old buddies from Trinidad days, but the "new" 2nd lieutenant pilots who went over to England with the automatic promotion to 1st Lieutenant were never given another promotion by Overing. Overing made sure that his buddies made colonel upon completion of their combat tour When the pilots returned from Trinidad, they were 1st Lieutenants and returned from England as colonels. Charlie and his buddies went to England as 1st Lieutenants and returned 1st Lieutenants.
Charlie suffered from a case of impetigo during his combat tour as a result of an improperly cleaned oxygen mask. He was removed from flight status during his convalescence. His crew, meanwhile, continued to fly and finished their tour without him. Charlie became a trainer/observer until November 2, 1944. Charlie was flying the right seat with the Virgil Miller crew, who were on their third mission. Charlie had a ring-side seat when the Paris crew took a direct hit in the bomb bay, killing all aboard. One of the airmen who died that day was Charlie's best friend, Bill Beeson. This hit Charlie hard. The flight surgeon, concerned for Charlie's state of mind after this incident, removed him from flight status for good.
After the war ended Charlie operated a crop dusting company for a time. Charlie had realized, however, that he liked the military life and attempted to re-enlist. The Air Force rejected him at first, but Charlie kept at it and was eventually accepted. Although he was behind his peers in rank due to Overing, he made a career of what became the United States Air Force. He retired as a major in December of 1965, with a Distinguished Flying Cross, Six Air Medals and two Air Force Commendation Medals, and had logged 600 combat flying hours.
In 1976, he saw an announcement in the paper that the WWII 8th Air Force was having their second annual reunion. Charlie attended and found about five other 486th veterans and the remembering struck a spark which made Charlie want to try to find any members of his 8th AF crew. This, in turn developed into wanting to try to get as many 486th men as possible to the next reunion. Being retired, he could spend a great deal of time searching, which resulted in countless hours on the phone and writing letters. This soon became a full time job, but it lead to the formation of our Association, with Bill Collins, due to his business experience, becoming the first Commander and Charlie becoming the second. Most of Charlie's time has been spent on the 486th Group Association.
Years later Charlie's mother told him that his father, who had died when Charlie was just 14 years old did not want his son to become a doctor, even though it would break the chain of Macgill doctors, his father saw what he believed was coming to be the future and doctors would be more interested in money than curing people. He wasn't too far off!
Charlie was buried in Arlington on his birthday.
---
Harold Magruder, Gunner, Gay's Crew, 834th: September 20, 2009
Harold, 84, died in Missoula, Mont.
He was born July 10, 1925, in Glasgow, to Paul and Gladys Magruder. He attended Glasgow High School, graduating in 1943. Immediately after, he joined the U.S. Army Air Corps, attaining the rank of Staff Sgt. He was a B-17 tail gunner with the Gay Crew, 834th, which flew 35 missions over Europe. He earned the Air Medal with five oak leaf clusters.
He married Corrin McCann on Aug. 9, 1944, in Sioux City, Iowa.
He and his father owned Magruder Motor Company in Glasgow for many years. He was later employed by Hahn Chrysler in Seattle and Bremerton, Wash., partnership of Magruder-Hahn in Vancouver, Wash., Dodge Corporation of Detroit, Mich., and in Missoula with Wakley Motors, Missoula Imports, Payless Car Rental and Dollar Car Rental.
He was a member of Benevolent and Protective Order of the Elks for 50 years.
---
Robert Lilly, Pilot, 834th: September 20, 2009
Bob was a pilot for the 834th, and flew a complete combat tour, with most of his missions flowin in "The Worry Bird". His most notable mission was putting down on an airfield during a snow storm. Following his combat tour, Bob returned stateside where he eventually met his wife of 61 years, Martha Myers. He purchased her a figuring of "The Worry Bird" at a fair, which she kept all these years. Bob is survived by Martha and four daughters.
Bob attended High Point University prior to joining the Army Air Force in 1943, doing his training as a B24 pilot. He transitioned to the B17, and was assigned to the 486th. Following the war, Bob remained in the Air Force Reserves at the rank of Captain. He returned to school and earned his BS degree in accounting in 1947 from UNC Chapel Hill. He worked for Western Electric, and later AT&T, finally retiring after 37 years. He was active in his church, golfing, exercising and travelling. Bob donated his boy to the UNC School of Medicine.
Bob tells his story here
---
Roland Andrews: September 18, 2009
Roley Passed away peacefully in the West Suffolk Hospital aged 81 years. Beloved husband of Joan and brother of Bernard and Rosemary. Roley was a teenager when the men of the 486th arrived in April 1944. He was fascinated by the Yanks and their flying machines, and would become a friend to many. At 18 Roley was drafted into the Royal Army and served with the occupational forces in Italy. When his service ended, he returned to Sudbury to settle down with his wife, Joan. While helping dismantle many of the buildings at Station 174, Roley was able to secure many documents left behind. He became the first historian of the 486th. His collection impressed visitors.
---
Edward J. Schoonover, G, Tulman's Crew, 834th: August 1, 2009
Ed passed away at the age of 90 in Arnold, MO, where he had retired from the Air Force. Ed was a gunner for the Tulman crew.
---
Ralph W. "Bud" Hillman, ROG, Fadden crew, 834th: July 6, 2009
The Fadden crew entered combat on the 22nd of March and only flew 6 missions before the end of the war. Their favorite "steed" was "Homesick Angel", 44-6312.
Bud was born in Sioux City, Iowa on July 14, 1924. He enlisted in the Army Air Corps Reserve in November 1942 while attending Morningside College and was called into active service in February 1943. He participated in bombing missions over Germany as a radio operator on B-17's with the 486th Bomb Group, 834th Squadron, 8th Air Force based in England. He received an honorable discharge in 1945, but he enlisted in the Army Air Force Reserve in 1947 and later served as Commander of Detachment 2 of the 11th Mobile Communications Squadron from September 1962 to June 1966. He attained the rank of Major before he retired from the Air Force in July 1984.
After World War II, he attended the University of Nebraska and the Central Radio School in Kansas City, MO. He was employed by Pan American World Airways in San Juan, P.R. as an air/ground radio operator and then was hired by the Burlington Railroad as a telegrapher and teletype operator in Ottumwa, IA and Lincoln, NE. In November 1956, he joined Aeronautical Radio, Inc. (ARINC) as an air/ground radio operator at Omaha, NE. The radio station was relocated to Kansas City, MO. in 1958. In 1971, Bud transferred to Customer Services at Arinc's Headquarters in Annapolis, MD. where he retired in 1986 after 30 years service.
Bud met Dessamore while they were both attending the University of Nebraska and they were married in Kansas City, Mo. on November 27, 1947. After his transfer to Annapolis in 1971, Bud and Dess moved to the Yorktown section of Bowie, MD and joined Christian Community Presbyterian Church in 1973.
---
Cyril R. "Bob" Suing, BG, Cross' Crew, 835th: June 26, 2009
Bob was born on October 23, 1923.
Prior to the war Bob was a professional ice skater who was approached by Sonia Henie to join her troupe. Bob declined and shortly thereafter WWII broke out. Following the war Bob worked as a radio engineer for a radio station in his home state of Oregon, and worked for the Oregon State Police as a radio dispatcher. Bob's hobbies include building radio controlled airplanes and was a member of the Keizer RC Pilots Association, playing the nose trombone and singing with his church choir. Bob was a graduate of Mr. Angel Prep School, and Multnomah College.
---
Everett E. Roe, Sr., 486th: April 28, 2009
Everett died at Saint Elizabeth's Medical Center in Brighton, MA. He was 88.
Everett was born on May 20, 1920 in Eau Claire, Wisconsin and was a son of the late Chester and Florence (Biesecker) Roe. He was a twenty-one year veteran of the United States Air Force where he was trained as a machinist. He served during World War II and the Korean War, retiring in 1963. After that, Everett worked for another twenty years for the Millipore Corporation in Bedford.
Always the mechanic, he enjoyed fixing tractors and mowers and he was an avid gardener. Everett was a member of the Joseph F. Hill American Legion Post No. 156 in Waltham and the 486th Bomb Group Association.
---
Stanley Peca, Flight Engineer, Ewen's Crew, 833rd: March 29, 2009
Stan was the flight engineer and top turret gunner for Ed Ewen's crew, 833rd. Stan was an avid craftsman. Some of you may have seen his handiwork at the reunions. He once created wooden 8th AF candle holders which graced our tables at one reunion. He enjoyed candle making, too. One of his crowning achievements, in my opinion, was building and flying RC aircraft. These aircraft were not your ordinary RC planes, but used lawn mower engines. He was working on a C47 using two lawn mower engines. Stan was a one time member of the Great Lakes Eagles R/C flying club. This is a hobby that Stan enjoyed with his son, Jeff.
---
Ralph W. Hatfield, Copilot, Gibb's Crew: March 27, 2009
Ralph passed away in Angola, Steubin County, Indiana. He was born in Ossian. His wife, Joan J., died in 1995.
Ralph retired as a pilot from the Air Force and had worked in intelligence for the Civil Service. He was past commander of Orland American Legion. He was a member of the National Guard Association, Knights of Pythian Lodge and National Association of Federal Employees.
---
Paul Mazza, Gunner, Farrell's Crew: March 15, 2009
Paul passed away on March 15th, one month and a day following the passing of his beloved wife, Gilda.
Paul Mazza 85, a retired insurance executive from Huntingdon Valley passed away on Sunday, March 15th from complications related to Parkinson's disease. His wife Gilda had died on February 14th.
Born in Leongnano, Italy to Gabriel and Philomena Scaracamazza, he arrived in Philadelphia as a frightened 6 year old. "My Dad told me that his Grandfather promised him a bicycle if he got on the boat and came to America" said his daughter, Marian. "He got the bike and my Dad arrived with his mother and joined his own father who he had been separated from for 5 years."
Life was difficult for the Mazza family in North Philadelphia as Gabriel and Philomena struggled to learn the language and to assimilate into their new country. Paul became his parent's protector at a young age. He watched his younger siblings Bennie and Mary and he acted as his parent's translator in helping them navigate their adopted country.
Paul Mazza served in the Army Air Corp as a ball turrett gunner for the 486th Heavy bombardment Group in Europe during the Second World War. He flew 33 missions and was awarded the Distinguished Flying Cross in 1944 for bravery in combat. His son Mark said, "My father almost never spoke of his military service. He was a kind and sensitive person and he knew that war was a terrible thing." In the book 486th Bomb Group by Richard Agwood, the author called the 486th, "one of the most active fighting units in the European theater."
Paul Mazza returned from the service and then graduated from La Salle College with a business degree and also took graduate courses at The University of Pennsylvania. Money was tight for him and for a time it was necessary for him to work 24 straight hours on the weekend. This included an 8 hour shift at The Philadelphia Record followed by a milk delivery route that was anchored by a horse drawn carriage. Mark said, "Dad said the milk route was easy because the horse knew when to stop so he could get some rest in route."
In 1945 he returned to Philadelphia and reconnected with Gilda Planamente, a striking dark haired beauty from the neighborhood. Paul and "Jill" began a 60 plus year love affair that produced 4 children; Paul Jr., Marian, Mark, and Thomas and 2 grandchildren, Matthew and Sarah. Yvonne La Mar, 41, was always considered by Paul and Jill to be their adopted daughter. Dr. LaMar, who received a Ph d from Cornell University, had lost her own father as a young woman and found in the Mazza's unconditional love and support.
Paul and Jill built a life based on mutual love, trust, and friendship. Their home was warm and inviting filled with great food, fellowship, and conversation. They traveled the world highlighted by 21 visits to Italy none more memorable than their first visit in the late 70's. His son Tom said, "My Dad had been gone for nearly 50 years. My Mom and Dad landed in Rome and drove a rental car the 90 miles to Leongnano, in the Abruzzi region. My Dad knocked on the door and told an older woman that he was "Paul from America." His Uncle, Angelo Fiazza, came to the door and all of them were crying in an instant. His uncle invited all of their relatives to gather and he sang joyfully the entire evening. Uncle Angelo and Paul spent at least 2 weeks together for more than 15 years until his Uncle's death. These were some of the best moments in his life as he reconnected with loved ones in Italy.
Paul and Jill's life together was deeply affected by the death of their son Paul Jr. in 1986. A talented artist Paul had battled a substance abuse problem for all of his adult life. Mark said, "My Mom and Dad were unprepared to deal with my brother's addiction. They always loved him and supported him but the problem never got better. My Dad spent an enormous amount of time since my brother's death wondering what he could have done."
After a 25 year career at Metropolitan Life, Paul and his partner, Stan Siegel opened Mazza-Siegel Associates of Jenkintown, PA in 1977. The firm specialized in disability insurance and pension and investment planning for mid sized companies. Mazza and Siegel built a successful business with an uncommon level of caring and personal service. Paul considered all of his clients to be his friends and much of his work life were spent visiting them. Tom said, "My Dad always said the key to business success was reaching out to your clients when you have nothing to sell."
Paul Mazza took great pleasure from spending time with his wife, children and later his grand children. With a dry wit and an easy laugh, Paul was treasured by his family. His adult children spent many hours with their father. Marian visited her parents weekly from New York City and spent many hours laughing with her father. His stories were filled with colorful characters that he had met along his life's journey. From Harry "NMI" Schwartz to Harold Coochik, Paul's family smiled at the start of another yarn.
The final years of his life were marred by declining health for both he and his wife. Despite their health, Paul and Jill's love and devotion to each other never wavered. They were inseparable in every way. They remained together in their own home until the end. Jill, who had been suffering with Alzheimer 's disease for many years, was taken from Paul only 31 days before his own passing. All who knew the couple believe that Paul hung on so his wife would not have been alone.
The Mazza family was particularly grateful for the care and compassion shown by caregivers, Jacquii and Pam Elias for the last 2 years of their parent's lives. Marian said, "The two of them were a gift to our parents and our entire family. We were blessed."
Gilda's was also a much respected artist and sculptor. She was also a secretary to the the group of scientists who created the first mainframe computer, the ENIAC. Her job was to transcribe notes from the principal developers. She was quite proud of her part in such a revolutionary technology.
---
Nicholas Matlaga, Flight Engineer, Dunne Crew, 835th: February 8, 2009
Nicholas was the flight engineer for the Dunne crew, 835th. The Dunne crew arrived just in time to fly one mission before the 486th stood down from combat operations.
Nicholas, who passed away on February 8, 2009, was born in Roselle Park, NJ and lived there until moving to Westfield in 1980. He was a member of the VFW and American Legion at Roselle Park. Among his joys was gardening
---
Roy Schmitz, Pilot, 835th: February 4, 2009
Roy died in Tarpon Springs, FL.
Following his service in WWII he earned his BS in Industrial Economics then an MS in Applied Psychology from Iowa State College. He was president of R. M. Schmitz and Company, Inc. in Chicago, IL. Previously he worked for Consolidated Freightways, Standard Oil Co., and as an assistant to the Registrar at Iowa State College. He was also and FBI agent.