Royal Sidie, Navigator, Jenson's Crew, 834th: December 28, 2010
Royal, 89, of St. James, MO, was born May 12, 1921, to Leda and John Scott Sidie in Viroqua, Wis. His mother died when he was very young, and his father was forced to send his children to various farms in the area to earn their keep. Royal worked hard for his 25 cents per week, was a good student and enjoyed boxing while in high school.
He enlisted in the Army National Guard in Wisconsin on Oct. 2, 1940. He became a staff sergeant in the 358th Air Base Squadron and was deployed as a navigator 1034. He flew in the company of the 486th and 834th bomb squads of the 92nd Wing of the 3rd Division, 8th Air Force. He "participated in 25 heavy bombardment missions over enemy-occupied continental Europe as navigator of B-24's and B-17's. He was awarded the Air Medal with three Oak Leaf Clusters while completing his operational tour in this theater. His duties were performed in an excellent manner," according to a memo written by Lt. Col. Glendon Overing dated Sept. 1, 1944. His missions included flying over France, Germany, Belgium and Holland. He never forgot those experiences, and he was grateful to the end for the grace that allowed him to survive. He never tired of retelling these experiences and met regularly with a local fliers group. He generously recorded all of the fliers telling their stories. He had planned on flying to Washington with the Central Missouri Honor Flight but was thwarted by his failing health.
Royal took a quick detour during his time back in the states to marry Ella Ruth Doll of St. Mary on June 25, 1941. He and Ella Ruth had two sons during this time, Renai Patrick and Ronald James, then much later came Rochelle Ann. He leaves behind four living grandchildren and five great-grandchildren.
Royal attended the University of Missouri-Rolla through the GI Bill and was a semester short of receiving his degree in electrical engineering when he went to work at the U.S. Geological Survey as a surveyor and cartographer until his retirement in 1972. He also set up the first television repair shop in Rolla, and he never tired of trying out the latest in TV, radio and recording technology.
He was an avid golfer until he could no longer play because of a shoulder injury. He was a dedicated Cardinals fan and did the daily Cryptoquip in the St. Louis Post-Dispatch religiously. After his wife's death, he enjoyed traveling, especially to Scotland, and also toured Europe. He vacationed in Hawaii and spent several years traveling back and forth to Minneapolis to spend time with his high school sweetheart, Gwen Rudroff, who preceded him in death. Royal was preceded in death by his wife, Ella Ruth; son Ronnie; daughter-in-law Joanne; and two granddaughters, Stacy Marie and Marcie Lynn.
Royal was a devoted soldier, husband, father and grandfather and a gentleman to the end. He lived a simple life with dignity and integrity.
Aside from family, Royal will be greatly missed by his friends on the bus that he took twice a week to the casino, the guys from the fliers group, his golfing buddies and all of his friends at the USGS.
---
Wilbur Kenneth Chapman, NG/Togglier, Shaw's Crew, 834th: December 22, 2010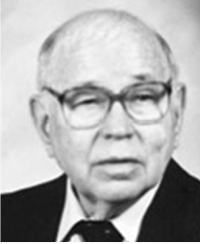 Wilbur was born in Andice, Texas in the home of his Aunt Mary and Uncle Bill Morgan on September 13, 1923 to Jabe B. and Cynthia Copeland Chapman. His mother died when he was 9. He went to Austin High School, graduating when he returned from 4 years service in the 8th AF in WWII, in which he was awarded the Purple Heart and other medals.
His plane was shot up over the target in Koblenz and made a forced landing in Belgium on September 19, 1944. The ship set down in a potato patch, destroying a large portion of the farmer's crop. The crew offered to pay for the damages, but the farmer refused. Later that day, the crew was hosted by the town (Wetteren) mayor. These were the adventures of his life and he would gladly tell you stories.
Family members said they could tell them as well as he as they had heard them so often. He went to the 8th AF, and 486th Bomb Group reunions as long as he could, taking anyone who would go: his grandson Jabe to England, grandson Will to Savannah, Ga., all to Washington, D.C. to see the WWII Memorial. His crew, Jim Shaw's "Flak Plow", has a plaque there recognizing their service to their country.
A graveside service at Andice Cemetery, Andice, TX on December 27th.
---
Steve T. Gurdak, Crew Chief, 834th: December 7, 2010
Steve, 93, a longtime resident of Ludlow, VT, was born in West Rutland on December 29, 1916, the son of John and Julia (Wos) Gurdak, and spent his childhood in the West Rutland area. Steve rose to the rank of Master Sergeant having been one of the original members of the 9th Anti-Submarine Squadron. Steve served from June 1941-August 1945, and was a lifetime member of the Veterans of Foreign Wars Post #10155 and the American Legion Post #36.

Upon his return to Vermont following WWII, Steve worked in the woolen mills in Ludlow, eventually establishing (with Bill Hanken) and running Daken Mills, until he retired in 1979.
Steve married Jennie (Potowniak) Gurdak on February 13, 1960. She predeceased him on September 1, 1998. Steve was also predeceased by his brothers and sisters, Joseph, Mary, Jean and John.
Survivors include Richard Gurdak of Ludlow; Michael Gurdak, his wife Dianne and grandchildren Julia, Jared, Jackson and Joshua, all of Vienna, Va.; Thomas Gurdak, his wife Leah and grandson Brandon, all of Winchester, Mass.; Joseph Gurdak, his wife Cheryl, of Ludlow, grandsons Ryan of Burlington, Sean of Boston, Mass., and Jason, his wife Leora, and great-granddaughters Talia and Kaia, all of Santa Cruz, Calif.; as well as several nieces and nephews.
---
George W. "Bill" Pray, Crew Chief, 833rd: October 25, 2010
Bill, who was 87, died peacefully at the VNA hospice center in Vero Beach Florida. He is survived by his wife of 63 years, Jeanette, nee Hagerty.
Born in Pawtucket on Feb. 1, 1923 to George Bishop & Laura (Morris) Pray, Bill graduated from Pawtucket East High School in May 1941 studying airplane mechanics. From May 1941 until September 1945 he served as a crew chief in the 833 Bomb Squadron, rising to the rank of tech sergeant.
While at Station 174 Bill kept his B-24 "Blazing Betsy" flying for the Morris White crew. Later, he named his B-17 (43-37856), "Lady V" for his then girlfriend, Virginia. This ship was transferred to the 834th. Bill got a new ship that he named Lady V II, (44-8130). Lady V II was flown by the Ogle crew on February 3, 1945, and forced to find refuge in Poland on February 3, 1945. The next plane Bill worked on he christened "Lonesome Polecat" after Virginia wrote him a Dear John letter.
Bill and Jan lived in Plainville where they raised their family and became part of the community including the zoning board, member of the Plainville police, Cub Scouts with his sons, and the Lions Club, while working full time as a sales engineer for both W.H. Shuman and Hitchner Manufacturing of Milford, N.H. Bill was a avid traveler with his family, camping in almost every state and national park he could find in the United States and also traveling to Europe, Hawaii, and Canada.
Bill spent many years "snow birding" between Cape Cod and Florida.
---
Edward C. Willems, Copilot, Robinson's Crew, 832nd: October 24, 2010
Edward passed away at the age of 88 Sunday, October 24, 2010, in his home in South Bend, IN.
He was born on July 20, 1922, in Kenosha, Wisconsin, to the late Anthony and Marie Willems. He was also preceded in death by his brother, Robert.
The Robinson crew had a harrowing mission on March 15, 1945 when their ship was riddled by flak. One piece blew through his side and out behind the pilot. Both pilots narrowly avoided injury and possible death. Likewise for their flight engineer, Lyman Huffman. Their BTG was wounded on the mission. Both pilots managed to land their Fort with a flat tire and no brakes. He was awarded two Bronze Stars for his service.
After the war, Edward Willems graduated from the University of Wisconsin with a business degree. He worked for Kaiser Aluminum, Sequoia Supply Company, and Wickes Lumber during a professional career in building supplies that spanned four decades. On June 2, 1951, Edward Willems married the former Jean Kotz in Kenosha. They moved to South Bend in 1956 and made it their lifelong residence.
Edward's favorite pastime was supporting his Chicago Cubs, Green Bay Packers, and the University of Notre Dame Fighting Irish.
---
Albert H. Blomer, ROG, Chapelle's Crew, 834th: October 2, 2010:
Albert retired as LT Colonel from the U.S. Air Force and PA National Guard. Prior to enlisting, he was a pitcher for the 'Triple A' Team, The Manhattan Blue Birds, in the 1930's. During that time he was brought up as a pitcher to the New York Giants for a brief time. Following the war, and prior to retirement, Al served as the commander of the Willow Grove Air Station for the USAFR. Al was an avid Phillies Fan. He was a devoted husband and father.
---
Ray P. Garrett, Gunner, Farrell's Crew, 834th: August 10, 2010
Ray was born to U. Lynn and Della Garrett on Dec. 31, 1923, in Los Angeles, Calif. He married Adelia "Didi" Kleinschmidt on Jan. 29, 1944, in Tucson, Ariz.
Ray served as a top gunner in B-17s and B-24s. He was very proud of his service to his country and made many friendships with fellow airmen as well as those who lived in Sudbury.
Ray was a longtime educator in California, beginning in 1949 as an agriculture education teacher and ending his career as a public school administrator in 1985. He then became a regional director for Association of California School Administrators for a number of years. He was also very active in community affairs, being a member of the Twentynine Palms Rotary club for almost 30 years and then as a member of the Ogden Noon Exchange club for a number of years. He was very close to his family and loved to spend time with his children, grandchildren and great-grandchild as well as with extended family. He loved to travel and visit old friends and relatives.
Ray was "voted off" his crew when crew sizes were reduced to 9. Ray cited his marriage as the reason his crewmates chose him to go home. Ray was very active in the 486th, serving as secretary then treasurer. At was during his time as treasurer that the Sudbury Trust came to be. He worked very hard to make that happen. The Trust is set up to help Sudbury maintain memorials, and a small archive dedicated to the 486th.
---
LTCOL William Hrabko, Pilot, 835th: July 23, 2010
Bill passed away in San Jose with his family at his side. He is survived by his wife, Anna, two daughters and three sons.
---
Rupert H. Burris, Armorer/Togglier/Gunner, Riley Crew, 835th: July 13, 2010.
Major General Burris was born on September 24, 1925 was a resident of El Dorado, Arkansas at the time of his passing.
He graduated from high school in 1943 in El Dorado and received a bachelor of arts degree in business administration from Jackson College, Honolulu, Hawaii, in 1958. He attended squadron Officer School and the Air War College at Maxwell Air Force Base, Alabama, and the Armed Forces Staff College at Norfolk, Virginia.
During World War II, he enlisted in the U. S. Army Air Forces in October 1943 and served as a B-17 aircraft armorer/gunner in the European theater of operations, completing 30 combat missions over Germany and France. His military decorations and awards include the Legion of Merit with oak leaf cluster; Bronze Star Medal; Meritorious Service Medal; Air Medal with four oak leaf clusters; Air Force Commendation Medal with two oak leaf clusters; Air Force Outstanding Unit Award Ribbon with V device; Good Conduct Medal; Vietnamese Honor Medal, First Class; Republic of Vietnam Cross of Gallantry with Palm; and the Republic of China Meritorious Service Medal, Class A, Second Degree.
---
Virgil G. Marchant, 832nd: 25 June 2010
Virgil, 87, of Tifton, died at the Tift Regional Medical Center. Funeral services with military honors were held and burial followed at Oakridge Cemetery.
Born Nov. 24, 1922, in Tifton, to the late William Isaac Marchant and Gussie King Marchant, Virgil was also preceded in death by his wife of 55 years, Thelma Jean Rogers Marchant, who died in 1999.
Virgil had lived in Tift County all of his life. He attended Omega High School after which he served in England as a member of the 832nd.
Mr. Marchant retired after 27 years with the U.S. Postal Service. He was a member of the American Legion Post 21 and the NARFE. After retirement, he and his wife,Thelma, enjoyed traveling and camping and attending his 8th Air Force reunions. He enjoyed spending time with his children and grandchildren and attending his grandchildren's ball games. For the last few years, Mr. Marchant enjoyed reminiscing about WWII, fishing, working in his yards, and meeting with the McDonald's breakfast group. He also enjoyed NASCAR.
Virgil was a very active member and deacon of Omega Baptist Church.
---
Thomas J. Schuster, ROG, Chilton Crew, 835th: June 17, 2010
Thomas, age 86, of Munhall, Pennsylvania, who was a tech sergeant radio operator-gunner. Tom was retired from J&L Streel in Hazelwood, PA, after more than 35 years' service. He was the husband of the late Margaret (Schwager) Schuster, fatherr of Thomas J. (Ruth) Schuster, Jr., grandfather of Heather (Paul) Vidic and Maximilian Schuster, greatgrandfather of twins William Louis Vidic and Jacob Thomas Vidic, and brother of John "Jack" (Helen) Schuster and the late Paul "Bud" (Margaret) Schuster. Interment was at Calvary Cemetery, Pittsburgh.
---
Robert K. Schnell, 835th: June 16, 2010
Bob, 87, died of natural causes in Phoenix, Ariz. He was preceded in death two weeks ago by his loving wife of 61 years, Dorothy, of natural causes.
Bob was born June 13, 1923, in Ramona, S.D., to Emmanuel Schnell and Josephine (Deragisch). He attended school and college in South Dakota. In 1942, he left for California, where he worked for North American on construction of B-17s for the war effort until he joined the Army Air Force in February 1943.
After being discharged in October 1945, he drove the Alaska Highway with three buddies. He returned to South Dakota, where he met and married Dorothy Carper. Shortly after, they left for Alaska, where they raised six children.
Bob worked in civil service at Elmendorf AFB until 1965. He was a partner with Bill Britz in building new homes and remodeling until his retirement in the 1970s.
Bob and Dorothy enjoyed nearly 40 years of retirement, splitting their time between Deep Creek in the summer and Arizona in the winter, driving the Alaska Highway more than 50 times!
---
Eugene Judd, 834th: June 12, 2010.
Eugene, 88, passed away Saturday at Kitty Askins Hospice Center, Goldsboro, NC.
He was born in Stockport, Ohio, to the late Delmar K. and Helen G. Corner Judd, and was married to the late Virginia Mercer Judd for 48 years.
A devoted father, son, husband and friend, he was known for always having a joke or story to tell, his love of music and his devotion to those he loved.
Eugene was an avid amateur radio operator with the call sign W4PES. He retired from the Naval Research Laboratory in Washington, D.C., and was a member of the Air National Guard of D.C. He also served in the United States Air Force Reserves. He was a member of the DAV, the American Legion, Masonic Lodge No. 4 in Fredericksburg, Va., and Brogden United Methodist Church in Goldsboro, and was a former longtime member of Fletcher's Chapel Methodist Church in King George, VA.
Eugene was also a member of the Wayne County Amateur Radio Association in Goldsboro, N.C., and the Rappahannock Valley Amateur Radio Club in Fredericksburg, VA.
---
John Walchli, Intelligence Specialist, 834th: May 29, 2010
John, of Wellsville, and Phoenix, AZ, passed away Saturday in Phoenix after a brief illness. Born June 26, 1921, to Otto and Marion Judge Walchli, he graduated from Wellsville High School in 1939.
After serving in World War II in the 8th Air Force, 486 Bomb Group as intelligence specialist from 1943 to 1945, creating bombing mission maps and folders, he graduated from Syracuse University in 1946.
After working for several years in the radio broadcasting industry, he returned to Wellsville in 1948 to work for Richardson Petroleum Corp., from which he retired in 1986 as president.
John was a member of the New York State Oil Producers Association for over 50 years and served as its president for two years. He also served on the Energy Resources, Research and Technology Committee for the Interstate Oil and Gas Compact Commission. In addition, he has served on the Tight Sands Committee of the IPAA Society of Petroleum Engineers.
He also served as chairman of the Eastern District Production Committee for the American Petroleum Institute including the states of New York, Pennsylvania, Michigan and Illinois. In addition he served as chairman of the Secondary Recovery Study Group for the Bradford, Pa. District of the Pennsylvania Grade Crude Oil Association.
John served as the president of the Wellsville Chamber of Commerce and was a member for a number of years. In addition, he served on the town of Wellsville Planning Board for seven years and on the Allegany County Planning Board for 30 years. Mr. Walchli was a life member of the American Legion Post 702 of Wellsville.
John served as a director of the First Trust Union Bank Board for 16 years, from 1968 to 1984. He was also a member of the CFA (Chartered Financial Analysts) Society of Rochester and the CFA Institute.
John was a lifelong member of the First United Methodist Church in Wellsville, where he served as the chairman of the Usher Committee and chairman of the Pastoral Relations Committee. Mr. Walchli was also active in the Boy Scouts and served as scoutmaster for Troup 22 in Wellsville.
John was a 50-year member, a past president and a Paul Harris Fellow of the Wellsville Rotary Club, which he joined in March 1955. He was also a perennial Rotarian with the Scottsdale Rotary Club in Scottsdale, AZ.
---
Allen J. Sawyer, Copilot, Thompson's Crew, 832nd: May 7, 2010
Allen was born in San Francisco to Henry and Ida May Sawyer. Following his tour with the 486th, he served with the reserves. In private life he flew corporate aircraft, and earned a degree in industrial engineering. He later owned and operated a life support manufacturing business with his brother. During this time he invented a cooling system for use aboard the Mercury spacecraft, and flew first with Alan Shepard. Allen eventually closed his business and became a professional industrial engineer at Mare Island, CA.
---
Robert H. Nolan, Navigator, Schmitz Crew, 835th: March 5, 2010.
Bob reported to Station 174 as a flight officer. He received a commission and continued to serve with the USAF for 24 years, retiring at the rank of Lieutenant Colonel. Following his retirement from active duty, he earned his bachelor's degree from the University of South Florida, then served his fellow veterans in the Veteran's Administration, including four years as executive secretary. Bob served on the board of the 486th BGA as secretary for four years; president of the 8th AFHS Florida Chapter for 10 years; and executive director for the 8th AFHS for four years. He is survived by his wife of 64 years, Virginia.
---
Paul L. Nance, Flight Engineer, Hendricks' Crew, 832nd: March 5, 2010
Paul Levi Nance was born July 24, 1918 at Independence, Kansas, the son of Roscoe Nance and Alta (Clark) Nance. He attended Independence schools. In 1942 Mr. Nance joined the United States Army Air Corps. Mr. Nance attained the Rank of Tech Sergeant and flew 35 combat missions. Mr. Nance was employed with the Universal Atlas Cement Plant in Independence beginning his employment in May of 1948 and worked for 33 years as a Burnerman. He was a life member of the VFW, Dewlin-Dix Post 1186 of Independence and a life member of the 486th Bomb Group Association. On July 18, 1941 at Webb City, Missouri, he was united in marriage to Betty Avery. Mrs. Nance survives at the home.
---
James J. "Jim" Dimel, Pilot, 833rd: January 23, 2010
Colonel Jim Dimel, USAF (Ret), age 89 of Boca Raton, FL, died suddenly, but peacefully, surrounded by his loving family. He lived in Plantation, FL for 37 years before moving to Boca Raton in 2007. Jim was born in 1920 in Columbus, Ohio to Rudolph and Margaret Dimel. Jim was a proud graduate of the University of Pittsburgh where he met and married his college sweetheart, Charlotte Harris. They were married for 67 years and had four children. He served in the Air Force for 30 years and flew with the 833rd completing 30 missions, 18 as a lead pilot.
Jim made an emergency landing in Belgium after encountering fierce FLAK over Frankfurt. His aircraft was badly damaged. Jim was flying in the right seat, and helped the pilot keep in formation until bombs were away, then dove so that the crew would not suffer hypoxia from the loss of the O2 system. His #3 engine windmilled, his #4 was feathered, and most of the engines were on fire, which the pilot and Jim managed to extinguish. With two severely wounded men in the nose, the pilot and Jim managed to put the plane down in a potato field. The approach was made over the town of Jamoigne, when the broke out of the clouds at 500 feet, and just barely managed to avoid hitting a church steeple. Their efforts to avoid destroying the church, and being part of the forces that helped liberate Belgium from the enemy won Jim and his crew many friends among the locals. Friends from Belgium wrote that "For the villagers of Moyen/Jamoigne, Jim is our true American WW2 hero. At age 24 he saved our village and our 11th century church. While descending from 30,000 feet with 3 of 4 engines on fire he raised the right wing of his crashing Flying Fortress in order to avoid our steeple and save his crew".
In September of 2001, Jim and Charlotte were guests of the town and were present for the dedication of the James Dimel International Airport (see attached photos).
Jim stayed in the Air Force and flew combat missions over Korea and served in Vietnam. Colonel Dimel is a highly decorated officer by our nation and he holds the unique distinction of having been awarded Korean, Italian and Thai pilot wings. After retiring from the Air Force, Jim was an Associate Professor at Ft Lauderdale University and later worked for Broward County. Jim enjoyed travel, golf and sailing his Chinese Junk on the Great Lakes. Anyone who knew him will remember he always spoke kindly of others, had a quick wit and a twinkle in his eye.
---
Harold J. Stieber, Pilot, 834th: January 16, 2010
Harold J. Stieber, of Kerrville, WI, had been a long term care patient at the Kerrville Veteran's Hospital.
Captain Stieber was born in Sheboygan, Wisconsin on September 17, 1921 to Louis and Emma (Whittlock) Stieber.
After graduating from Sheboygan High School, he attended the University of Wisconsin studying aeronautical engineering. With WWII on the horizon, Captain Stieber and his three older brothers, Roman, Daniel and Gilbert enlisted in the Army Air Corps. Harold and his brothers graduated as aircraft mechanics at Chanute Field.
Harold was then assigned to Sheppard Field in Wichita Falls, Texas where he met his wife of 53 years, Wanda (Smith) Stieber. Wanda preceded him in death in 1997.
After Pearl Harbor he applied for aviation cadets and received his wings at George Field in 1943. He was assigned to the 8th Air Force Heavy Bomber Command in England where while with the 486th Bomb Group completed 35 missions flying the B-24 Liberator and the B-17 Flying Fortress. Captain Stieber holds the Distinguished Flying Cross, Air Medal with four oak leaf clusters, E.T.O. ribbon with four battle stars, American Defense ribbon and the Good Conduct medal, plus the Presidential Unit Citation.
After WWII Captain Stieber was assigned to the Strategic Air Command in Ft. Worth, Texas where he flew the B-29 and B-36 aircraft. After retiring from the Air Force, he had a distinguished career with the Federal Aviation Agency serving as chief pilot in the Flight Check Procedural Division, serving in Ft. Worth, Texas, Frankfurt, Germany, Houston, Texas and Oklahoma City.
---
Edward L. Rodgers, 486th: January 13, 2010
Ed passed away at Golden Living Center in Nebr. City.
Edward was born on December 4, 1920 in Elbing, KS; the son of Edward L. and Ella Mae (Dunn) Rodgers. He was united in marriage to Virginia M. Winkler on June 20, 1943 in Reserve, KS.
Edward served his country in the United States Army during WWII from June 13, 1942 to October 25, 1945. He completed basic training in Florida and was stationed at Ft. Sumter, SC before being transferred to England with the 486th. He was involved in missions in Central Europe, Normandy, Northern France, Air Offensive Europe and Rhineland Adrennes from May 3, 1944 to October 4, 1945.
He farmed for 13 years, in addition to being an elevator manager, feed grinder and seed cleaner.
He served on the Reserve, KS High School Board of Eduation. While in Nebr. City, NE he was past commander of the American Legion Post #8, and also was manager of the Nebraska City Youth and American Legion Baseball Program for many years.