e-Newsletter for July 2002
Do you know:
Burton P. Needell. Burton was a member of the 834th, but we have yet to identify this crew. His son is researching his father's history. Sadly, Burton passed away in 1979. If you have any information please contact me.
Last Flights:
Donald Conyers, Armorer/Gunner, 835th (Cross crew). Passed away on June 4th. A military funeral was held at Hagerman, Idaho, Don's birthplace. He is buried next to his wife, Helen. He is survived by his daugther, SaVanne, and son.
Robert J. Buettner, Pilot, 833rd. Passed away on June 10th. This very special B-17 Pilot is survived by his Wife - Marjorie (who was the namesake for Bob's Flying Fortress - "Cupcake"), one Son - Gary, two Grandchildren, and three Great-Grandchildren.
Madison A. "Red" Parker, Gunner, 833rd (Nelson crew). Passed away June 8, 2002 in Wichita Falls, Texas. Red was born Oct 3, 1918 in Baylor County, TX. He was the son of George and Mary Belle Parker, and married Annie Laura Hatter on April 16, 1933. Annie passed away in 1991. Survivors include a daughter Jo Ann Hill of Red Springs, a son, Gene, four grandchildren and 5 great-grandchildren.
486th Bomber Wreckage Found Near Brest, France.
Gildas Saouzanet, a ground technician at Brest-Guipavas Flying Club, has, for many years, had a great passion for everything to do with the Occupation and the Liberation of his area of France during the Second World War. Gildas, and some of his friends, are trying to find the crash-site of every aircraft in the north west part of Brest, which represents approximately around one hundred different aircraft. For each one, their aim is to find the crash-site, the date of the crash, the aircraft squadron, type and number, and the name of each crew member. They also try to learn about the crew, and circumstances of the crash, by interviewing witnesses, and contacting surviving crewmen, or their families.
On September 5th 1944 two 486th aircraft collided (s/n 43 37875 and s/n 43 37949 (Nobody Getzit)), and Gildas' team just recently found their crash sites. One crashed on a field close to a German Flak position between Guipavas and Brest. The crash site had be reclaimed by the farmer who buried the debris so he could continue farming his land. Few artifacts were found. Since the liberation, the farm was sold to another farmer, and both were present when Gildas and friends began their excavation.
Initially, they dug up one engine, one main gear, the tail wheel support, one gun, one turbo-charger, and located the second main gear and another engine. Many things seem to still be there. In the photo provided by Gildas below, Gildas is on the extrememe left.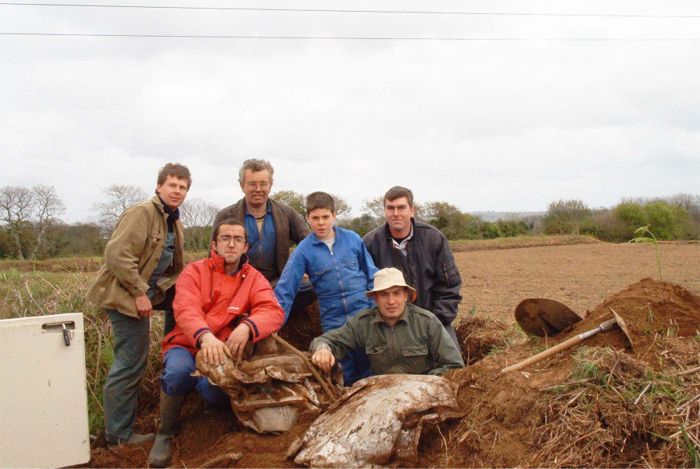 Identification of the recovered B17 was made by matching the serial numbers of the Browning 50 caliber machine guns with those on the Missing Air Crew Report (MACR), provided by the 486th Bomb Group Association.
From the "War Stories of the O&W" we have the following account:
September 5, 1945 (Combat Mission #072): Four aircraft of the 486th "C" Group, which were flying in the low squadron of the 92nd CBW, were positioned in diamond formation as shown below:
136 NR
Stuart

875 NF
Crawford

954 NK
Simmons

949 NB
Eachin
The aircraft were stacked downward, with 949 being below everyone.
The target were the Brest gun batteries, and the bombing altitude was 9,000 feet. The munitions load included 500 lb GP and 500 lb SAP bombs. Results were excellent. After bombs away, #875 did not close its bomb bay doors, nor did it appear to follow the squadron's turn from course of 100° to 330°. Consequently, #875 found itself sliding behind the lead (#136) and over the slot (#949) aircraft. Prop wash from the lead aircraft caused #875 to lose altitude, which resulted in a mid-air collision between #875 and #949.
#875 appeared to explode on impact, as part of the port wing, engine and tail section broke off. The tail section of #949 also reported to have been severed at the waist door. The forward section flip over and began spinning as it fell. The tail section followed, but at a slower rate of decent. At 7,000 feet, ,the main section appeared to level off momentarily before completing its fall. Parts of #875 fell into the ocean, but the main portion impacted on the ground, near the target.
Returning airmen reported a single chute, probably from #875. All crewmen were initially listed as MIA. There were, however, two survivors from the Eachen crew, and two from the Crawford crew. From the Eachen crew: SGT Edward Long (Waist) must have fallen out of the broken aircraft, after the empannage was cut off, and landed safely with his chute. SGT James Jent (Tail) road the tail section down, and survived the impact. SGT Long was picked up by the local citizens and directed toward the allied lines, evading capture. SGT Jent was not as fortunate, and was made POW. LTs Crawford and Jones both survived, but it is not known if they evaded capture, or were made POW.
The crewmen were:
2nd Lt. EACHEN Arthur H. (P)
2nd Lt. BERRY Edgar E. Jr. (CP)
2nd Lt. DURLEY Victor H. (N)
2nd Lt. PETRY Robert H. (B)
S/Sgt. PITMAN Frances C. (FE/Top)
S/Sgt. RAITER Clayton C. (R/O)
Sgt. LIGHT Harold W. (BG)
Sgt. LONG Edward M. (WG)
Sgt. JENT James E. (TG)

1st Lt. CRAWFORD Thomas S. (P)
2nd Lt. JONES Norman L. ( CP)
2nd Lt. JOHNSON John M. (N)
2nd Lt. ENGLEMEIR John H. (B)
S/Sgt. LUDSTROM Lyle J. (FE/Top)
Sgt. DAVIES Cecil H. (R/O)
Sgt. HEWITT Henry O. ( BG)
Sgt. REISLER Robert P. (WG)
Sgt; ROBSON Velton B. (TG)
If you have any additional details regarding this incident, or the crew, please do not hesitate to send a message to Gildas (gildassaou@hotmail.com).
More photos
The Bartl Crew Memorial
June | Association | August