e-Newsletter for September 2002
Board of Directors Elections
Dan Dennis and Bob Bee have decided to step down from their respective posts as treasurer and editor. Their work on behalf of the association has been superb, and is greatly appreciated. If you are interested in working for the association in these capacities, but are unable to attend the reunion, please let me know, and I'll make sure your name is tossed in the hat. Also, I believe that this year is the end of the Commander's and Historian's term of office. Burt would like to continue with his duties as commander, and I will continue to work as historian. But, if you would like a chance to operate in these capacities you may throw your hat in the ring. Remember, by-laws now permit associate members to serve on the Board of Directors.
Last Flight Roster
Ed "Earthquake" McKown, pilot, 832nd: Ed was a pilot in the 9th Anti-Submarine squadron, which eventually became the 486th Heavy Bombardment Squadron. After the war he flew for American Airlines, and was regarded highly by those who served with him. He passed away on July 28th at his home in Arlington, IL.
Looking for information on:
Thomas Hohman: Please contact Ben Hohman at slacker250@lycos.com
Liberation! (photos courtesy of Claude Roulin, Belgium)
On September 1st, 1939, Adolf Hitler began his quest for Lebensraum (living space/room), and to reclaim territories lost in the Treaty of Versailles. His Lightning War (Blitzkrieg) caught a sleeping world off balance, and Hitler's successes were swift, and devastating. After the British had been evicted from the continent, Hitler tried to carry the war across the channel. Before launching an invasion, the Luftwaffe was tasked with securing air supremacy, and softening up English defenses. Due to Göring's bungling micromanagement the Luftwaffe fell short, forcing a stalemate (a moral victory for the British if nothing else).
Hitler then turned his attention to the East, with the confidence that the British would be in no position to threaten the Fatherland. The Russians, however, had to be dealt with, and Hitler launched Operation Barbarossa. Initially, the push into Russia was swift, but stalled when Germany was forced to pick up the slack for Italy's failures in North Africa, and, eventually, the allied invasion of the Italian peninsula. Germany's manpower resources were limited, and the Wehrdienst (Armed Services) began impressing people of occupied territories into service. While many from eastern nations may have been eager to help push back the Russians, those from the west had little concern for German domination over Russia. None-the-less, boys 18 years and older were taken from their homes in the BENELUX countries and France to fight for the Germans in the East. Many never returned home.
Meanwhile, citizens of occupied countries were forced to swear allegiance to "der Führer." Classroom instruction was interrupted whenever Hitler gave a broadcast speech. Children were required to stand while listening, and offer the obligatory "Sieg, Heil!" (Hail victory), accompanied by the NAZI salute. Life under the Germans was harsh, and at times brutal. Civilians could be rounded up and shot for the death of a german soldier. Food and materiel began flowing eastward to feed, clothe and equip soldiers fighting on the eastern front. It was a time of privation which would last over 5 years.
Operation Overlord was the beginning of change. D-Day was set for June 6th, 1944, and a front on the West was opened up. The allies were pressing the attack from all cardinal directions, and even from above.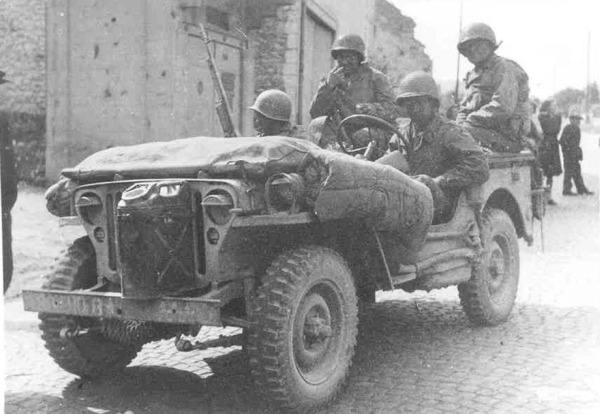 On September 3, 1944 American GI's come down a street of the recently liberated town of Silenrieux, Belgium. The same location as it appears today is shown below. The little white building at left is an electrical substation.