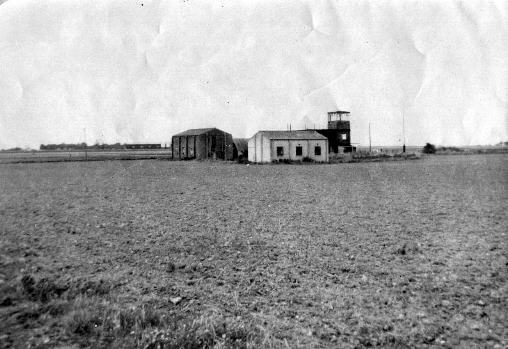 Control tower at Station #174 (AFHRA/Camp)
Control Tower
Radio call codes:
486th/Sudbury Base FICKLE
832nd Squadron TRAPPIST
833rd Squadron PEBBLY
834th Squadron: DEEPSEAT
835th Squadron NIGHTDRESS
The primary purpose of the Sudbury Control Tower, Station #174, including the 'Caravan', was to provide airfield services supporting the operations of the 486th Bomb Group (Heavy). The Control Tower operated 24 hours a day, 7 days a week, with four 8-hour shifts, one being a swing shift, Each shift was supervised by a Watch Officer. The Caravan was a portable vehicle positioned at the take-off/landing end of the operational runway, its bright red and white checkered squares usually made it highly visible. Similarly checkered Jeeps provided the towing power to re-position the Caravan.
Tower personnel were trained in airfield operations with additional training in the RAF's 'Flying Control' practice such as standards for flying in England, barrage balloon considerations, relations with the RAF, Air/Sea Rescue procedures, diversions due to the notorious English fog, rain, snow weather conditions. When radio silence prevailed, communication between the Tower and the Caravan or with the Aircraft was by lantern or flares. Otherwise, voice radio and wireless were used.
The Control Tower occupied the entire second floor of the small two-story building The glass wall facing the airfield gave a clear view of the, runways and nearly the entire perimeter strip and aircraft parking pods. A railed catwalk outside and along the window wall set back found frequent use for firing flares or rockets or flashing lantern signals, and provided a vantage point for authorized observers. The 'Greenhouse' was a rooftop glass-walled super-structure, which, with its unobstructed 360-degree visibility, was manned for the departure and return of combat missions.
The Sudbury airbase for a brief period of time in the Spring of 1944 was considered to be busier in terms of aircraft takeoffs and landings than O'Hare, Chicago, the acknowledged world's busiest at the time. The switch-over from B-24s to B-17s accounted for this distinction.: B-17s arriving to replace the B-24s; B-24s flying operational Missions; training flights in the newly-arrived B-17s underway while phased-out B-24s were being ferried away. The situation returned to normal once the conversion from B-24s to B-17s was completed.
It was not unusual for stragglers returning from bombing missions to make emergency landings at Sudbury, RAF as well as 8th AF, bombers as well as Fighters. On occasion, an entire Group would be diverted to Sudbury when its own base further north was socked-in by the weather.
Below are the Personnel of the Sudbury Tower component of the 76th STATION COMPLEMENT SQUADRON as of 8 May 1945:
[NEXT]
- CAPT John R. Rumisek
Control Tower Officer
[418th][803rd][276th][2113th][216th][1202nd][1453rd][1237th][ARC][76th][18th][473rd]
[486th][Association][Gallery]