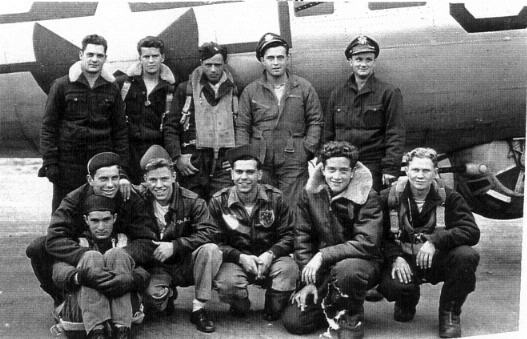 Standing (L to R): WO Dominic R. Valletta, LT ?, LT Arthur W. Ruff, LT Walter R. Dickerson, LT Emil Turnaski. Kneeling (L to R): S/SGT Walter G. Stuart, S/SGT Robert E. Slifer, S/SGT James X. Dorbarakis, T/SGT Gerald Brown, T/SGT James W. Moss. Sitting: S/SGT Glen R. Royster.
Anyone knowing the identity of the Lieutenant standing second from left is asked to contact James Moss at: James W. Moss, 2268 E. 3380 South, Salt Lake City UT 84109. (Photo submitted by James Moss)
Copyright © 1998-2016 486th Bomb Group Association.