In Memoriam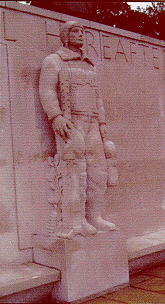 Statuary at the American Military Cementary at Madingley, England near Cambridge (Welch).
Fifty-nine years ago Americas Sons and Daughters answered the call to fight evil regimes threatening freedom loving peoples around the world. Over 16 million would serve, and over 400 thousand would sacrifice their lives to that cause.
The 486th Bomb Group (Heavy) flew 191 combat sorties losing 56 aircraft and suffering 77 wounded in action, 303 POWed and 408 war dead.
In the following pages note that the awards are DFC - Distinguished Flying Cross; AM - Air Medal; PH - Purple Heart. The numbers following the letter diad indicates the number of oak leaf clusters. AM3 would imply the Air Medal with 3 oak leaf clusters.
Among those who answered the airman's last tattoo are:
Aircraft | Crews | Letters | Places | Strike
Copyright © 1998-2016 486th Bomb Group Association.