---
2016 | 2015 | 2014 | 2013 | 2012 | 2011 | 2010 | 2009 | 2008 | 2007 | earlier
---
Robert Bloch, FE/Gunner, 832nd, 17 June 2016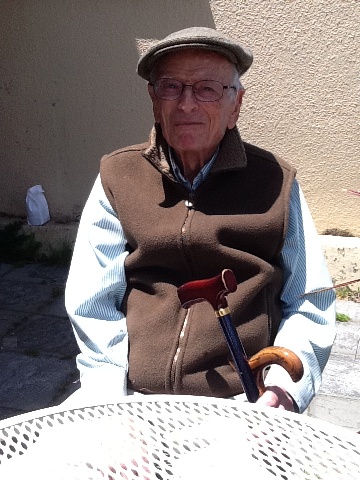 Bob, gunner and flight engineer for the Dale Crew, passed away on June 17th with his family by his side.
Of himself Bob wrote
Robert L. "Bob" Bloch, one-time flight engineer on Dale's 832nd crew—good crewman, poor soldier—full-time husband, father, grandfather—one-time consulting engineer— sometime tutor—sometime poet—most-time jokester—long-time humanist & environmentalist- full-time disciple of Abou ben Adhem.
His crewmates knew he'd do all that was necessary to keep their ship in the air and ensure their safety. When LT Dale arrived at their ship, Bob would have already pre-flighted it and reported to Dale that their aircraft was ready to fly. LT Dale would accept his word and dispense with his own pre-flight check.
Bob was transferred stateside following his tour with the 486th and trained on the B29. During his schooling he was offered a commission, which he refused. The military life wasn't for Bob, because he was too much of a free spirit and did not thrive on the strict discipline the military expected. Yet he dedicated himself completely to the mission and his men.
Following the war, Bob went to work with an engineering firm in NJ. Bob eventually left the firm and started his own engineering consulting firm, retiring in 1988. In his retirement he taught English as a Second Language and began writing poetry. He wrote poems for people he loved or came to know solely to put a smile on each face.
He fell in love with Janice, a nurse cadet, the day he met her and asked her to marry her two weeks later. They were married for 68 years and had two daughters, Susan and Cathy, and a granddaughter Adrienne. Susan wrote of her father,
Aside from being my father, he is an amazing, kind, wise, incredible spirit. He was still reading the NY Times, checking his smartphone, reading books on the ipad, doing the NY times crossword puzzle until the last day. Seeing the sadness in my eyes, he told me a joke.
Recently, Bob was interviewed for "Echoes of War" which was a performance at the Arcata Playhouse in Arcata, California. Veterans of all wars were either interviewed or performed. They used his voice over and images during the performance. He was interviewed about his war experience by the San Francisco Chronicle.
Bob was connected to the men he served beyond life, death, blood or family. Susan was named after his buddy who died when his plane went down. Had she been a boy, she would have been named Stan. Instead her name was derived from Stan — S, for Susan.
According to Bob "although I'd rather stay to read another chapter of this life story, and see how the other characters do, it's not a time to mourn for the time I didn't have, it's a time to rejoice in the time I did."
---
William C. Phelps, Gunner, 835th, 06 May 2016
Bill, 91, of Evansville, IN, was the son of Anna (Low) and Clyde Phelps who preceded him in death.
bill joined the Air Force at an early age to defend his country. He flew 35 missions as a Ball Turret gunner over Germany during World War II before his discharge. He married Dolores (Wingfield) Phelps on July 2, 1945 (who preceded him in death). They enjoyed 53 years of marriage and had three children, Susie, Bill and Jim. He worked at Hoosier Cardinal before going to Bootz Mfg. Company from which he retired. He was very active in his community after moving to Darmstadt in 1953. Bill was the Fire Chief for many years of the Scott Township Fire Department and was a founding member of the Scott Township Civic Association and the first Town Marshall of Darmstadt. Bill was also a Special Deputy during the tenure of Sheriff Jerry Riney, a longtime member of the Evansville Parks Board, on the Board of Centurion Credit Union, a member of the Eagles, VFW on Wabash, The Cynthiana Masonic Lodge and the Honor Veteran Group of the Hadi Shrine. He married Joan Caniff Woods Phelps on January 26, 2001. They enjoyed traveling to many countries, dancing several nights a week, their Wednesday friends group and had a very happy and active life together until his recent illness. Bill loved his new family and always thought of them as his children.
Bill was an active member of Salem church of Darmstadt where he served on the council and many boards.
---
Peter P. Ruplenas, HQ, Combat Photographer, 16 April 2016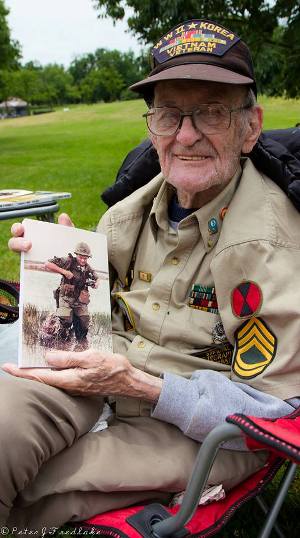 Peter, whose friends knew him as "Rupy," was born October 5, 1918, in South Boston, Massachusetts, also known as "Southie," to John Ruplenas and Dorothy Warekojis. He attended South Boston High School. While living in South Boston, Rupy taught Sunday school and ran track. He received many track and field awards and ran events as long as a 20 mile road race.
In 1941, he met Hazel Elena Rice on a blind date and married her six weeks later. They remained happily married for 75 years, Hazel passed away in 1986 and Peter never remarried. On their honeymoon in Washington, D.C., he raced, and beat, the elevator in the Washington Monument to the top, to the amazement of his young bride. He also placed third in a race against Olympian Roger Bannister in England. A reason for 'Rupy's' longevity may be his love for running.
Rupy joined the United States Army Air Corps before Pearl Harbor on June 24, 1941. He completed basic training in Dover, Delaware. After basic training, Peter followed a two week course in the Photography School at Davis-Monthan Army Air Field. He also served in Miami, Florida, with the 9th Anti Submarine Squadron. He was then stationed in Sudbury Suffolk England with the 486th (Heavy) Bomb Squadron. He was able to fly along on several bombing raids and capture some amazing photos. During his service with the Mighty 8th Air Force, they, along with the British, helped change the tide of the war and weaken Germany through round the clock bombings. Rupy flew on several Bombing raids and made it back, by the grace of God.
After WWII, Peter went back to South Boston and made razor blades at Gillette, until re-enlisting in 1948. He was deployed to Japan in 1949, where a few years later his first son, David, was born in Sendai. During the Korean conflict, Rupy suffered from frostbite, was blown 20 feet in the air from a tank that exploded 50 feet in front of him. He sustained permanent back damage from flying into a rock during another heavy battle. He lost part of his hearing from the constant artillery shelling around him. For two weeks he worked covertly with "Rice's Raiders" an anti-guerrilla team, belonging to the 7th Infantry Division (also known as the "Benedae Group"). They went behind enemy lines to destroy the enemy by destroying their weapons and incinerating any huts or houses that gave them shelter. When the 7th Infantry Division reached the Manchurian border, Rupy reached the Yalu river as the third American. He received a special medal for these actions. Rupy recalled, "It went from 60-70 degrees when we first landed to 32 below. I worked day in and day out, hardly any days off because I loved my job."
After the Korean war, he spent 10 years in Japan and the Far East photographing many generals, dignitaries and celebrities like Johnny Cash, Sugar Ray Robinson, Frank Sinatra, General MacArthur, Bob Hope and hundreds more. He also taught medical photography and was the chief photographer at Murphy Army Hospital in Boston.
When the Vietnam war came, he was shipped off to Hawaii, joining the Department of Army Special Photographers Organization otherwise known as DASPO. They were the very elite photographers of the Vietnam War. Rupy was 50 while most of his fellow photographers that he trained were in their 20's. During this time, he served 'in country' in Vietnam, where a sniper's bullet hit him and shattered his right knee.
He ended his career by serving at White Sands Missile Range and Fort Bliss in El Paso Texas. He retired in 1970 as Sergeant First class. During his amazing career, he covered three wars: World War II, Korean, and Vietnam. He may have been the only one to serve in all three of those wars as a combat photographer. In Korea and Vietnam his work was never judged lower than the top 3% of all combat photographers. On three different occasions his work was judged the best of the month over all the other photographers. He was injured many times and received many honors. Peter continued to live a full and active life after his retirement. He was the manager of the photography department at K-Mart in El Paso, Texas. He worked for the GPO in Washington,D.C., until retiring in 1980.
He lost his beloved wife, Hazel, in 1986, and his son, David, in 1994. During the final two years of his life, Peter and his younger son, John, were best friends and did many things together. They went several reunions and enjoyed life to its fullest. He enjoyed sitting at the WWII Memorial on Saturday afternoons talking to people and going to the Men's Mission in Martinsburg on occasion to help feed the men and talk with them. His son has self published 5 books on Rupy.
In 2013, Rupy met R. Lee Ermey and rode in the Rolling Thunder parade and was the Grand Marshall in Brunswick Maryland on Veterans Day. In 2014, when he was 95, he parasailed 800 feet in St. Maarten, breaking the record age of 89.
In August 2015, he sailed from NYC to Southampton, England, on the Queen Mary, and later he was given a parade through the streets of Edinburgh, Scotland, in a WWII Jeep. On Friday, September 25, 2015, at Wrigley Field in Chicago, with 40,432 in attendance, Rupy was honored with a rousing standing ovation right before the National Anthem. In October 2015, in Omaha, Nebraska at the Mighty Eighth Force Reunion, he rode one final time inside a B25 Miss Mitchell bomber. They thanked him with a second flyover of Omaha.
A week later, he was the oldest person ever to be baptized by Phil Robertson a Duck Dynasty cruise. He was given a standing ovation and was saluted by Lee Greenwood at his concert on that cruise. Si Robertson, Sammy L. Davis (Medal Of Honor recipient) and Rupy all saluted each other. Peter loved to sail and went on many cruises with his son. He loved to sit at the Veterans get togethers and swap war stories. On November 11th, Veterans Day in Busan, South Korea, he was awarded the "Ambassador For Peace" medal. He also revisited the DMZ in Panmunjom, where he had photographed the truce talks 52 years earlier. One month later, on December 10, Rupy was admitted to the VA Hospice.
"I feel pretty proud of what I've done. Without a camera, I'm nothing," said Rupy. Peter is survived by his son John, and his granddaughter Elena.
"Greater love hath no man than this, that a man lay down his life for his friends" --- John 15:13
---
Dale Wallenbrock, Pilot, 835th, 08 February 2016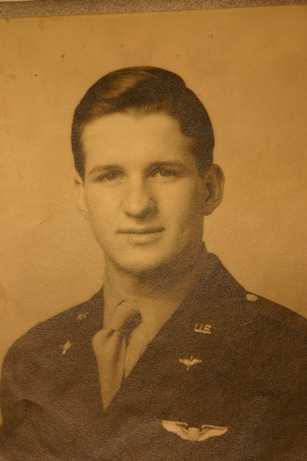 Dale Wallenbrock passed away among his family in Albuquerque, NM Feb. 8 2016. Dale was born in March 20, 1925 in Terre Haute, IN. He attended Rose Polytechnic Institute for one year before joining the US Army Air Corp in 1943. He received his wings, commission as a 2nd Lt, and assignment to B-17 commander training while just 18 years of age. He and his crew arrived at Sudbury and the 486th Bomber Group in late July 1944 and were assigned to the 835th Sq.
He and his crew primarily flew the B-17G " Wally's Wagon" a.k.a." Low Pressure Lu Lu" until it was shot down when borrowed by another crew. Remaining missions were mostly flown in " The Short Arm".
Dale's most memorable mission was the Sept 28, 1944 raid on Merseberg, Germany. On this mission the crew encountered their heaviest FLAK of the war. He was flying on the wing of the lead plane "Marge" when just before the drop it took a direct hit and broke up into many pieces( with the loss of all but one of its crew). Dale lost both starboard engines, neither of which could be feathered. On the return they steadily lost altitude and fell out of formation. However, as they reached low altitude and had less fuel the remaining two engines were able to stop their descent enough to make the base on a low altitude approach. Then, as they prepared to land, the landing gear would not respond to controls and had to be hurriedly hand cranked down just in time to make the difficult landing. He and his crew later counted more than 100 holes in the plane.
Dale's 35th and last combat mission was Dec. 30, 1944. He was still 3 months away from his 20th birthday.
He returned to the United States and was transferred to the Air Transport Command at Romulus air base, Detroit, MI. While there he flew several plane types from production plants to air bases and from air bases to "grave yards" in Arizona. He picked up the very last B-24 produced at the Willow Run factory and delivered it to the west coast. Two days before the Hiroshima atomic bomb drop he received orders to deliver a transport plane to New Guinea and join the Pacific Theater. His order was later canceled and he was discharged from active duty 6 weeks later thanks to the point system. Dale returned to Terre Haute to join his wife and child and begin civilian life. He served in the Air Corps Reserve until 1959 but because there were no air bases in the area he never flew again. He worked most of his life in sales and management in the trucking industry.
Dale survived Jeanette, his wife of 67 years. He leaves behind 4 children, 7 grandchildren, and 10 great grandchildren who will miss him dearly.
---
2016 | 2015 | 2014 | 2013 | 2012 | 2011 | 2010 | 2009 | 2008 | 2007 | earlier
---