The insignia for the 832nd shows a figure with body and head of a Panther signifying ferocious attacks. This is a carry over from the earlier nose art depicting a Panther. The figure has wings denoting aerial attack. The machine gun represents defensive fire power, while the bomb represents the main mission. The figure is superimposed upon orange flames of hell, which the figure is stomping out. The caption is meant an to imply an unholy, completely terrorizing, ruthless attacker.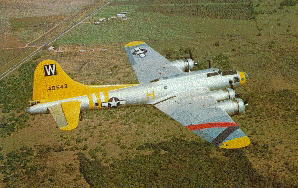 "Chuckie," painted as an 832nd pathfinder. Restored and maintained by Vintage Flying Museum.
Photograph by John McKone.