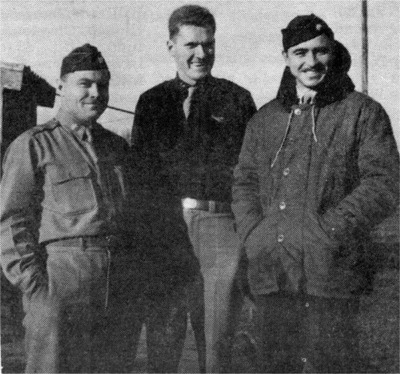 MAJ Carl Erickson, CAPT Bill Ornduff (Orndorf?), MAJ Fred Newman
The Story of the 835th and the 486th begin at Grenier field in Manchester, New Hampshire. On January 15, 1941, at Savannah, GA, and the 45th BG was created. The Group was comprised of the 78th, 79th, 80th and the 433rd Bomb Squadrons. The Group trained in A-20 "Havoc" medium bombers. In May of 1942 the 45th was reorganized and its function became antisubmarine warfare. The squadrons became the 7th, 8th, 9th and 10th Antisubmarine Squadrons respectively. The A-20s were replaced by the B-18. In August, the group was transferred to Miami, Fl, and flew out of Miami's 36th Street International Airport until 1943.
On November 17, 1942 the 45th BG was reorganized as the 26th Antisubmarine Wing of the Army Air Force Antisubmarine Command. In addition to the 4 established squadrons, the 15th, 17th, 21st, 23rd and 25th AS were added to the wing.
The operating area for the 26th AS Wing was the Caribbean and Gulf of Mexico. In March 1943 the 9th AS was transferred to Langley, VA, for transition training to the B-24 "Liberator." However, not enough were available at the time, so the squadron continued to fly their B-18s upon return to Miami. Eventually, the B-18s were replaced by the B-25 "Mitchell" medium bomber. As soon as these aircraft were mastered, the B-24s began to arrive.
By August 1943, the 26th Wing was assigned to the First Air Force. A short time later, in October, the Navy assumed responsibility for airborne patrol of the littoral zone. The 26th was disbanded, and its troops reassigned.
This reassignment included the 9th AS to Monthan-Davis AAB in Tucson, AZ. On the 16th of August, the Commanding Officer of the 9th AS, LTCOL Overing, was directed to move his squadron to Monthan-Davis. Overing knew that his squadron was about to be designated a Bombing Group and began to form his core of officers to help him lead the new group. When the orders came forming the 486th Bomb Group on Sept 9th, 1943, the 9th AS became the core squadron and was redesignated the 835th Bomb Squadron (Heavy). The other groups were stood up as new aircraft and crews became available.
The insignia for the 835th shows a "Pluto-like" green hornet. Most likely this represents the operation of an olive green colored B17F which was used by the 835th to perform yeoman duties (airborne communications). This aircraft was also nicknamed the "Green Hornet."
CAPT Guthrie transferred to the 3rd SF to fly P51s.